NBA 2K23 Shooting Badges List
NBA 2K23 has tons of new badges for players to unlock and unleash on the court, especially in the shooting department. Here's a breakdown of the full Shooting Badges to use in NBA 2K23 and which ones are the best.

Shooting Badges in NBA 2K23
| | |
| --- | --- |
| Badge | Description |
| Agent 3 | Increases a player's chances of hitting three-pointers off the dribble. |
| Amped | Reduces the shooting attribute penalties that players receive during fatigue or moving before shooting. |
| Blinders | Be less affected by peripheral defenders while performing jump shots. |
| Catch & Shoot | Increases a player's chances of hitting three-pointers immediately after catching the ball. |
| Circus Threes | Increases players' ability to perform pull-ups and step-back threes. |
| Claymore | Increases a player's ability to perform perimeter shots while spotting up patiently. |
| Clutch Shooter | Increases a player's ability to score shots during clutch moments like the final moments of the fourth quarter or overtime periods. |
| Comeback Kid | Increase a shooter's three-point and mid-range abilities while trailing in a match. |
| Corner Specialist | Boosts shots taken from the corners. |
| Deadeye | When taking Jump Shots with defenders closing out, players will receive less penalty from the shot contest. |
| Difficult Shots | Increases a player's ability to score difficult shots off the dribble from mid-range. |
| Fade Ace | Increases a player's ability to shoot post fades. |
| Green Machine | Grants players an additional shot boost after performing back-to-back excellent releases during jump shots. |
| Hand Down Man Down | Increases an outside shooter's success rate if an opponent fails to get a hand in the face. |
| Limitless Range | Increases shooter effectiveness while shooting the ball from deep three-point range. |
| Rhythm Shooter | Increases the success rate of shots out of one-step pull-ups and size-ups. |
| Slippery Off-Ball | Increases a player's ability to get open off the ball. |
| Space Creator | Increases a player's ability to perform stepback jumpers, hop shots and causes defenders to stumble more regularly. |
| Stop & Pop | Increases a player's shot rating during stand-still three-pointers after dribbling. |
| Volume Shooter | Boosta a player's shooting rate after taking a certain number of shots during a game. |
Best NBA 2K23 Shooting Badges

Below, you will find the best shooting badges in NBA 2K23: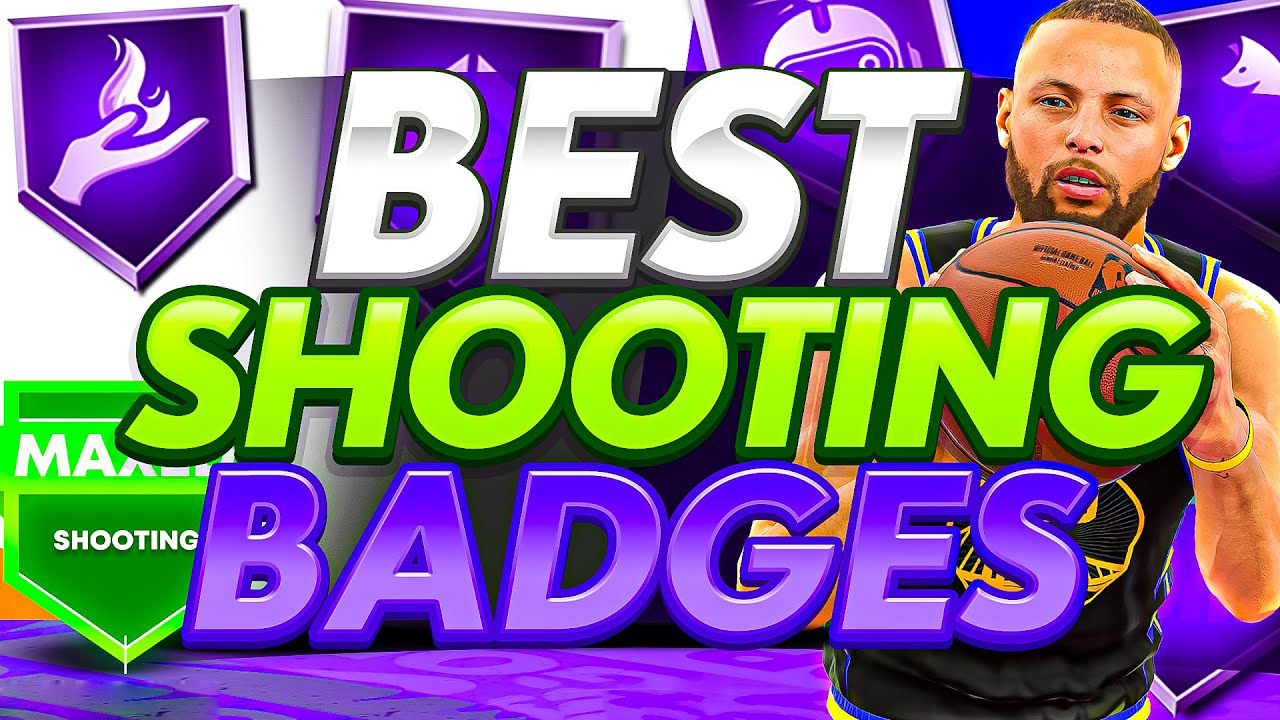 #1 Limitless Range

This badge grants the highest chance of scoring a point in the game.

#2 Catch & Shoot

This badge will help increase your green windows, exactly what a shooter wants.

#3 Deadeye

This badge boosts your shot meter to hit shots in front of defenders. This activates when you have a defender closing in on you.

#4 Corner Specialist

This is yet another exceptional badge that boosts your shot for a good chance of getting a green if you're in the corner.

#5 Claymore

This badge enhances the shooting abilities of a player that stays still. It triggers if you stand still for at least two seconds and then provides an exceptional boost for spot-ups on the 3-pointer line.

#6 Green Machine

The Green Machine badge is what you need to maintain a high shot percentage.

#7 Blinders

This badge your shoot if defenders are closing in on you from sideways. This helps you shoot before being caught by the defender.

#8 Space Creator

This badge can stumble the players at the back, defending. The ability to make hop shots or step-backs is highly enhanced using this badge.

#9 Agent 3

The Agent 3 badge ups your chances of making a pull-up or spin shot from beyond the arc.

#10 Amped

Equipping Amped will improve your ability to knock down shots despite your fatigue level.

Once you have all these shooting badges, you're one step closer to becoming a scoring machine in NBA 2K23. Visit the u4gm.com news page for more badge guides and other info, like how to get NBA2K23 MT quickly.